Eco-Friendly Reusable Dish Cover Sizing Guide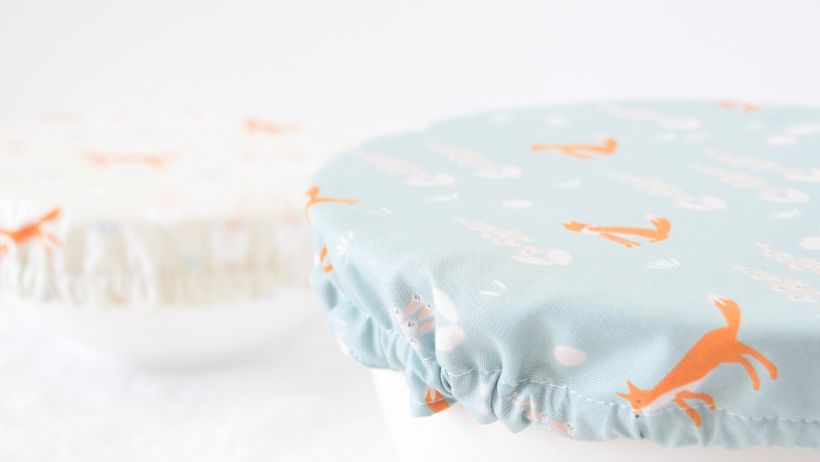 Folks ask me all the time what size dish cover to get. Which makes sense! So I'm going to do a series on showing what each size is most used for in terms of everyday dishes. 
As a reminder, all of our dish covers have elastic sewn in, so sizing is somewhat forgiving. Still, it helps to be in the ballpark of the correct size for the most user-friendly experience.
It is always best to measure the diameter (across the center from edge to edge) of your intended dish, but this guide can help narrow down your decisions.
Extra Small (XS): Tiny but Mighty
First up is the XS dish cover. I use this one for cereal bowls and Tupperware that I've lost the lids to. The XS can fit dishes up to 4"-6". If you're unsure, just go up a size to the small.
Examples:
-Corelle cereal bowls (18oz) 
-Pyrex 1qt Bowl (the smallest in the nesting sets)
-IKEA tupperware (the ones with bamboo lids)
Small (S): Shockingly Versatile
Although it still looks pretty small, you can get quite a big of mileage out of this size. Our small dish cover is good for dishes approximately 6"-8" in diameter. 
Examples:
-Mini Pie Plate (6"; this gives a little extra wiggle room!)
-Small casserole dish
-Large cereal bowl
-1 qt measuring cup
-Pyrex 1.5qt (the middle of the nesting set)
-3qt Instant Pot insert
Medium (M): The Workhorse
Next up is our medium dish cover! According to customers' requests and my own kitchen experience, this is the most commonly used size. This can cover 8"-10" diameter dishes. It is easily the best-seller in terms of sizing!
Examples:
-Banneton (both round and oval)
-9" pie plate
-Standard dinner plate
-9" Square pan (2qt) [even with handles!]
-1.5qt rectangular loaf pan
-Pyrex 2.5qt (the biggest one in the nesting set)
-Kitchenaid Stand Mixer Bowl (regular and pro series)
-6qt Instant Pot insert
Large (L): For Your Potluck-Worthy Portions
We're getting into the BIG dish covers now! The Large size is about as big as I need for pretty much anything. It can handle covering 10"-12" diameter dishes. Keep in mind these covers are stretchy so while they might not look that big, they really are!
Examples:
-8qt Instant Pot Insert
-Gigantic mixing bowl
-12" pie plate
Extra Large (XL): The Behemoth for Irregularly Shaped Platters
Breaking out the extra large dish cover! Not joking when I say I don't have bowls big enough to even need a size this big 😆 They can cover dishes 12"-14" in diameter. You might need this size if you have a 4qt Pyrex or restaurant-sized mixing bowls!
I tend to use this size for the odd shaped serving platters like oval or square dishes because they need a little extra length to get around the corners.
**A note about rectangular dishes like 9"x13" casserole dishes: they do not play nice with round covers.  I DO however periodically drop special releases for casserole covers here.  They're super limited so it's best to hop on the email list so you get first dibs when new ones drop.
If you don't know which size to start with, I recommend going with either just the medium size or trying a 3-pack that includes a small, medium, and large. These options are also really good if you're buying dish covers as a gift and don't know what dishes your recipient has as these fit pretty common household dishes! Of course, feel free to send an email or DM if you need more guidance!