Easy Summer Recipes- A round up!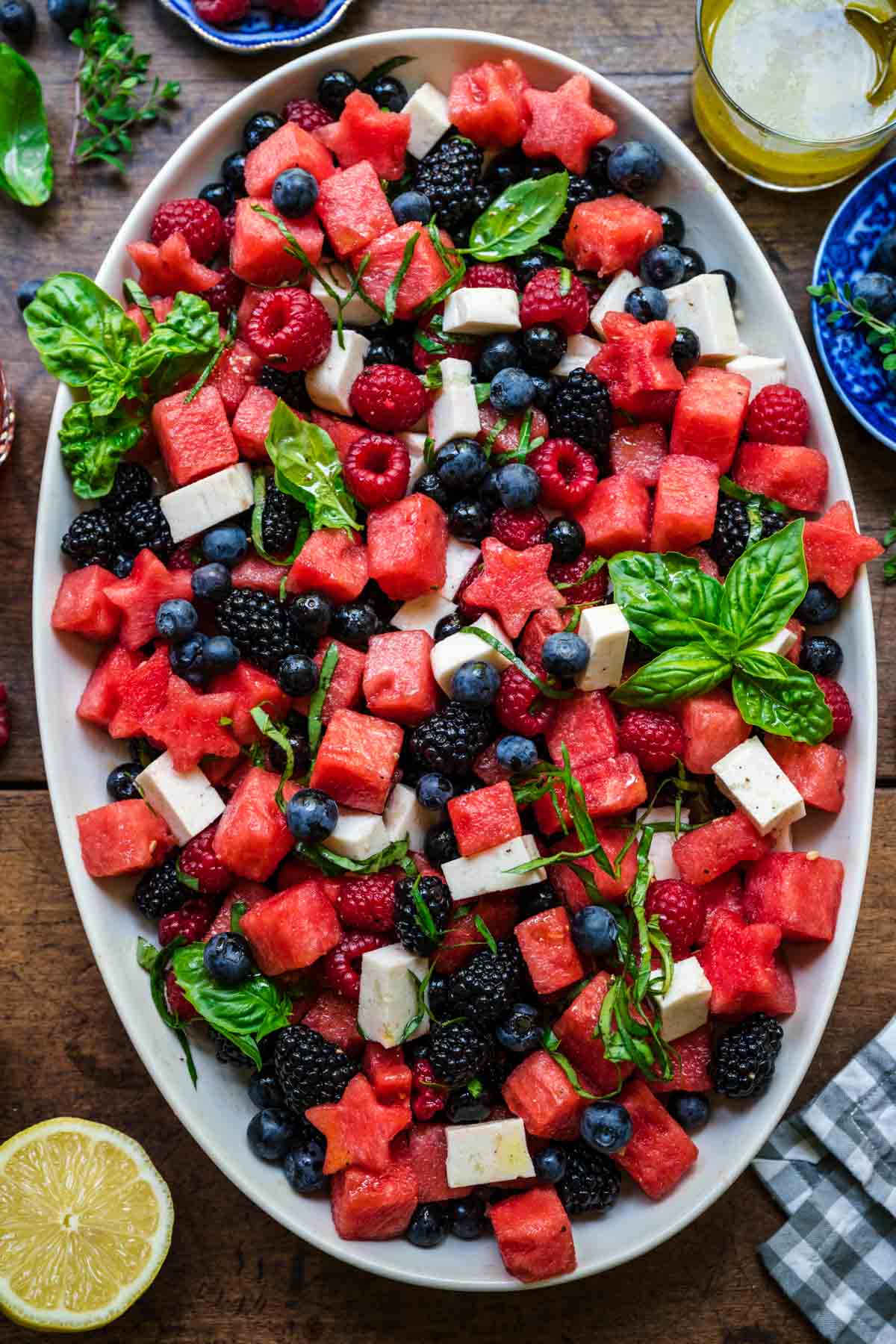 Summer is off to an unusually slow start here in eastern Washington State but a blazing hot summer is right around the corner. That means I'll likely scale back on using the oven and opt for easier, no-fuss recipes that can be prepped in advance.
Recipes clockwise from top left: Watermelon salad from the Crowded Kitchen, Grilled Peaches from Gimme Some Grilling, Frosty Paws doggie ice cream from Food with Feeling, and Garlic Rolls from Cloudy Kitchen.
I took the liberty of scouring my bottomless list of pinterest pins for recipes that I think you'll love.  Full disclosure: I have not tried many of these recipes verbatim but prefer to use them as jumping-off points to make my own version of things. The good news is they're pretty straightforward and are easily adaptable. If you don't like bell peppers, that's ok! Leave them out.  Vegetarian? Totally fine, just sub out that chicken and add more of your fave veggies. Gluten free? Skip the regular noodles and sub in chickpea noodles.
Recipe ideas for summer meals:
1. Fruit salad, pasta salad, actual salad!
I love salads. Not so much in the healthy sense but more because of the variety.  I lean towards pasta salads, grain bowls (yes, I call that a salad), and fruit salads. However, I'm not a fan of anything mayo-based.  Sorry, not sorry.  Pasta salads with Italian dressing, fruit salads with a sweetened lime dressings, or grain bowls with honey mustard vinaigrette. If we're going leafy green salad, I'm team Ranch all the way.
Here are a few ideas to build your own salads:
2. Skip the oven, break out the grill.
In our house, we've tried to stick to a loose grilling schedule of every Friday.  It's an excuse to hang outside, sip a cocktail, and let the dogs run around. Usually we prep veggies and any meat the night before, toss the marinade on in the morning and cover, and things are ready for that evening. The hubs likes grilling and it gets me out of dinner prep (bonus: very few dishes to deal with).
Some of my favorite grilling recipes/inspiration:
Grilled Zucchini with goat cheese and honey
Grilled Shrimp (I like serving these over grain bowls too)
Veggie+Tofu Kabobs (sub in meat if preferred)
3. Desserts that the kids* will love!
*Adults will like them too. Also, I don't have kids so the above statement is untested. 
Ice Cream (no ice cream maker required)
4. You didn't think I was gonna leave the pets out, did you?
I found a DIY version of frosty paws that's a big hit in this household.  Nothing fancy here, just all natural peanut butter, plain yogurt, and bananas.    Use only plain peanut butter and yogurt and ensure there are no artificial sweeteners (xylitol is extremely toxic for dogs).  Our cats prefer their own treats but you can always grill up a little unseasoned chicken for your kitties and I'm sure they wouldn't mind.
5. And I could't not link a few of my fave bread recipes for those of you who are willing to sacrifice a hot kitchen for fresh bread (I'm right there with ya!)
I recently tried a garlic roll recipe from Cloudy Kitchen that worked perfectly for me!  And for your sourdough folks, I've also linked my fave focaccia recipe from The Perfect Loaf.
Meal prep to save time!
I love recipes that can be made ahead OR work well as leftovers so I can make lunches for the work week. I'll divvy up the leftovers in bowls and cover them with reusable dish covers so they're ready to grab the next day or two. To stretch leftovers even further, I'll make a batch of quinoa or brown rice in the instant pot and use that as a base for lunches and top the off with grilled veggies from the weekend.
I would love to hear what your fave summer recipes are whether they're low-fuss, oven-free options or they're just something that reminds you of summer.
Have a wonderful week!
-Ali