Free USA shipping on orders over $35!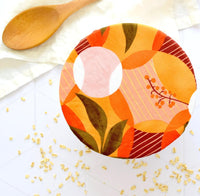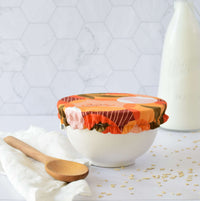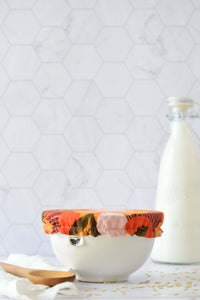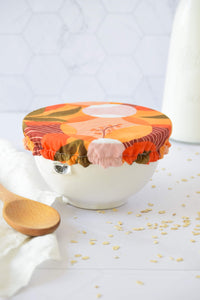 Reusable Dish Covers - Tropical Sunset
Regular Price

$ 18.00

Sale Price

$ 18.00

Regular Price

Unit Price

per
Say goodbye to single use plastic! We've created these cute and durable dish covers to make the switch easy.  Each cover uses elastic to ensure a snug fit for a range of bowl, plate, or other shaped dish diameters.  These covers are great when bringing a dish to a potluck or keeping leftovers fresh at home. They even work to keep fruit flies away from your produce! I use mine to proof bread dough and keep my kitchenaid mixer bowl free of dust. The options are endless. They also make the perfect gift for the foodie, baker, or eco-conscious person in your life.
Sizing:
XS (6"): 4"-6" bowl diameter
S (8"): 6"-8" bowl diameter
M (10"): 8"-10" bowl diameter
L (12"): 10"-12" bowl diameter
XL (14"): 12"-14" bowl diameter
Most popular sizes are 10"/M followed by the 8"/S and 12"/L. We also offer a 3-pack bundle that includes one of each size for easy gifting.
Measure across the widest part of the bowl (diameter) and order the size just larger. For example, if your bowl measures 9" across, order a 10" bowl cover. If your bowl measures 12" across, order the 12" bowl cover.  Odd shape? These circular bowl covers also do a good job covering ovals and squares. I use my covers for oval bannetons all the time. To figure out the size you need, measure across the longest dimension, then choose the size larger.  So if your Banneton is 9" long, order the 10" bowl cover.  If your square casserole dish measures 13", order the 14" cover.
Kitchenaid Mixer Bowls: Medium Dish Cover
Most round and oval bannetons: Medium Dish Cover
We offer two types of liners, PUL and breathable cotton muslin. PUL is a food-grade, waterproof fabric and is generally what we recommend for the vast majority of folks.
PUL-lined: A waterproof, BPA-free lining.  Best for foods that need to retain moisture such as proofing dough, leftovers, meal prep ingredients, etc.
Cotton Muslin-lined: A basic cotton lining.  Best used for food that is already dried or is not harmed if it dries out. Also good if your particular application requires a lot of air exchange.
Note: if you do not see a choice in liner types, the dish covers are pre-made with PUL liners ONLY and are not currently available with muslin liners.
Machine wash or wipe liner clean with damp cloth. Do not use bleach. Air dry recommended but they are safe for the dryer.
You can wipe the waterproof liner with olive oil if needed to prevent any chance of sticking to enriched doughs like brioche. Often this isn't necessary though!
Do not use in the oven or microwave or to cover hot dishes immediately from the oven.